PLASTIC LETTERS & LOGOS
For the greatest variety choose Gemini plastic letters
Gemini plastic letters offer the greatest variety of dimensional plastic letters available today–from traditional to ornamental and script. Gemini's high standards will mean you get the highest quality letters, with the fastest delivery, at the lowest possible price, all with a Lifetime Guarantee. Gemini manufacturers 3 different lines of plastic letters. Available in over 30 standard colors and virtually any style under the sun. Your search for your plastic letters is about tocome to an end.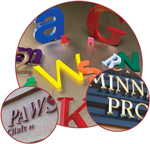 Minnesota Letters (Injection Molded)
Gemini's Minnesota™ Letters have the look and feel of cast metal letters so they're suitable for almost any "up-scale" application. Made from earth-friendly recyclable Cellulose Acetate Butyrate (CAB), Minnesota Letters are beautiful, crisp letters with razor-sharp edges that are easy to install and guaranteed for life. Available in six standard styles and 45 standard colors, they are in stock and ready to be shipped in just 1 business day.  More durable than most other plastic letters, they are able to stand up against the scrutiny of indoor applications and tough enough to withstand the elements outside.
---
Most accurate and consistent letters and numbers possible.
Light enough to be installed without drilling into sign face.
Same great look in small or large sizes.
Made from renewable resources, CAB plastic is a non-petroleum plastic and completely recyclable.
Metal look & appearance
Suitable indoors and outdoors
Ships In 1 business day
Made from "Green" earth friendly plastic
Lifetime Guarantee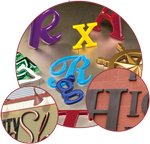 Standard Formed Plastic Letters & Logos
The original "Gemini Letters".  Formed plastic letters are the most popular and durable product in the sign industry today. The utmost in versatility, Gemini's guaranteed-for-life formed letters are the standard for most local businesses as well as office parks, retail chains and almost anywhere there is a need for dimensional signage. Their inexpensive molds make it easy to customize a letter style or logo for the perfect 3D sign. Formed letters also provide the deepest dimension for the money. Because we extrude our own sheets of Cellulose Acetate Butyrate (CAB), we save money in the production cost which we can pass on to our customers.  And, with 3 different forming locations across North America, most letters are just 2 days away from your doorstep.
Over 128 standard styles and 31 standard colors
Fast Delivery –  Produced in just 2 days
Lifetime Guarantee
UV stable
Low-Cost option with high impact results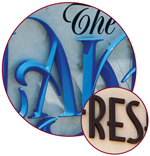 Custom Formed Letters & Logos
There are fewer plastics greener that our CAB (Cellulose Acetate Butyrate).  As the name implies, the cellulose—the body of the plastic—is derived from wood and cotton fiber cells.   Sheets of this easy-forming material are extruded by Gemini in our state-of-the-art extrusion plant.   Custom formed letters and logos are extremely weatherable and have stood the test of time with Gemini since 1963.   With 31 standard pigmented colors, variety of face profiles, mounting hardware, and thousands of custom options—Gemini can create custom formed designs for you in less time, money, and hassle than if you were to try to otherwise manufacture it yourself.  And by the way, ours comes with a lifetime guarantee.
Up to 2″ deep
Flat, round or prismatic face
Single formed pieces up to 45″ x 68″
31 Standard pigmented colors
Custom paint matching
Gemini's custom forming operations provide you with a means of replicating a typestyle or logo that is not within our extensive mold inventory.  With the ability to form our plastic into shapes not attainable with acrylics or polycarbonate—you can create designs with detail that you would not think possible.  Our mold artists can take your 2D drawings and images and produce 3D shapes that will make your customers take notice.   Multiple sets also afford even lower costs than what you would find off our single piece pricing.
Cut Acrylic Letters & Logos
Uncomplicate your business by making Gemini your source for laser cut acrylic letters at a lower cost than you could pay for just the materials. We nest thousands of orders to assure minimal scrap and a lower acrylic cost. Plus, we extrude our own sheets of pigmented acrylic in 32 standard colors.  Available in gauges ranging from 1/8″ to 1″ – you won't find this variety of acrylic anywhere else. Our state of the art computers paired with custom-designed high-speed 1000W lasers precisely cut the most customized sign work in the industry. The laser-cut polished edges are immaculate, making our acrylic product beautiful enough for any application where precision is required.
Sizes Range from 1/2″ – 72″
Pigmented Acrylic in 5 Different Thicknesses
Superior Laser Cut Polished Edges
32 Standard Pigmented Colors
Lifetime Guarantee