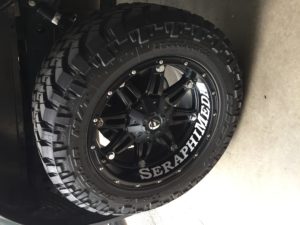 Precision Signs and Imaging, LLC, completed a recent quick custom install for one of our neighbors in Burnsville, Minnesota.
Vince Whoehrie came up with the unique placing for the vinyl letter install of his SeraphaMedia logos – inside the upgrade rims of his custom Ford F150 pickup. Mitch was familiar with vinyl decal, advertising his roofing and siding work with door signs on his truck.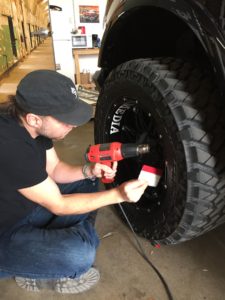 Kathy Armstrong, designer and sales manager, worked with Mitch to fabricate the design. She worked up the vehicle graphics to promote his YouTube channel, which we custom cut on white vinyl. Mitch brought his truck by Friday and Chris Rocco, art director, and Jeremy Gaston, our newest designer, tackled the interesting sign install location.
Mitch left happy with his new logos. Keep an eye out for his black truck around Burnsville, and check out the custom logos inside his rims if you're parked next to him or see him at a stoplight.
And keep thinking of interesting ways to promote your company. We'll be glad to help.