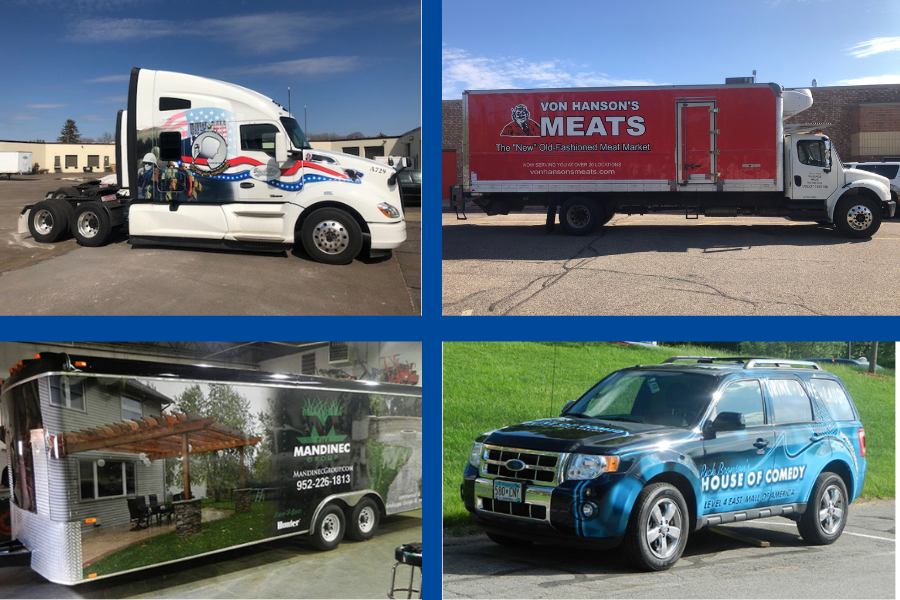 In the ever-evolving world of marketing and brand visibility, business owners are constantly seeking innovative ways to stand out from the crowd. When it comes to on-the-go advertising, vehicle wraps and graphics have become a game-changer. This article explores the benefits of using vehicle wraps and graphics for your business vehicles.
Why Vehicle Wraps and Graphics?
Let's begin with the obvious question … why choose to brand your vehicle? Well, it's simple! It turns your business vehicles into mobile billboards, reaching potential customers wherever you go. In fact, studies have shown that vehicle graphics can generate thousands of daily impressions, making them a cost-effective advertising strategy.
Options
When it comes to vehicle wraps and graphics, there are a number of options. Here are a few popular choices to consider:
Full Wraps: These cover the entire vehicle and offer maximum impact and visibility. Full wraps can transform your vehicle into a vibrant, eye-catching masterpiece.
Partial Wraps: Partial wraps are a budget-friendly option that covers a portion of your vehicle, providing a similar impact but at a lower cost.
Vinyl Graphics: Vinyl decals and lettering are versatile and can be customized to display your brand message and contact information.
Custom Designs: You can tailor the design to suit your brand identity, using colors, logos, and graphics that best represent your business.
Considerations for Business Owners
As you explore the world of vehicle wraps and graphics, here are a few important considerations:
Budget: Determine your budget and how much you are willing to invest in this marketing strategy.
Design and Branding: Work closely with a professional designer to create a design that perfectly represents your brand.
Quality Materials: Invest in high-quality materials to ensure the longevity of your vehicle wraps, as they will be exposed to various weather conditions.
Professional Installation: Choose a reputable sign company with experience in vehicle wraps and graphics to ensure a flawless application.
Maintenance: Be prepared to maintain and clean your wraps regularly to keep them looking sharp.
It is important to work with an experienced professional when putting together a branding strategy for your vehicle. The experts at Precision Signs & Imaging are experienced with vehicle wraps and graphics. They offer flexibility in design and material choices, and will produce high-quality, long-lasting graphics to make your vehicle one of your most powerful marketing assets.
Contact Precision Signs & Imaging to learn more about the incredible opportunities that vehicle wraps and graphics can provide for your business!
Precision Signs & Imaging … because image is everything.