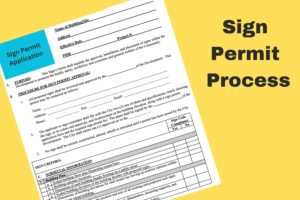 As a business owner, you understand the value of getting your brand noticed through eye-catching signage. However, before you embark on adorning your storefront with the perfect sign, it's essential to delve into the world of permits and regulations. Here is what you need to know about obtaining business sign permits that will set you on the path to signage success while staying within the boundaries of your city, county, and state ordinances.
Understanding Sign Ordinances
Sign ordinances are rules and regulations established by your local government to maintain the aesthetics, safety, and overall character of a community. Familiarizing yourself with these ordinances is essential, and partnering with a professional sign company can help you navigate the process. Sign ordinances typically cover aspects such as size, location, lighting, and even the type of materials used. By adhering to these guidelines, you not only contribute to the visual appeal of your area but also prevent any potential legal setbacks.
The Sign Permit Application Process
The permit application process generally begins with researching your local city government's website for information on sign permits. You'll often find detailed guides, forms, and contact information. Many cities require a business to have a sign contractor or sign hanger license to obtain a sign permit. Cities that do not require a sign company to apply for the permit need a completed application, as well as a complete sign drawing showing the location of the sign, type of sign, electrical or non-electrical, materials, colors, copy, and how the sign will be installed, whether it be a ground sign or building wall sign.
Why the Effort Matters: The Importance of Permits
Now, you might be wondering, "Is it really worth all this effort?" The resounding answer is yes! Securing proper permits not only keeps you on the right side of local ordinances but also safeguards your investment. Imagine putting up an impressive sign only to be asked to take it down due to non-compliance. That's not just a blow to your brand visibility but also your budget. Moreover, adhering to sign ordinances enhances the overall appeal of your business, contributing positively to your community's aesthetics.
Partnering for Success: Seeking Professional Guidance
When considering signage for your business, partnering with an experienced, professional sign company is essential. Precision Signs and Imaging in Burnsville MN knows that proper permits are not just a formality but a safeguard for your investment. At Precision Signs & Imaging, we complete the application process and apply for the sign permit(s) on the client's behalf. Expert advice can streamline your journey, saving you time, effort, and potential missteps. Whether it's understanding the nuances of local ordinances or navigating the paperwork, we can be your partner in your signage success story. When you work with us, you're not just getting a sign; you're gaining access to seasoned professionals who genuinely care about your success. Contact Precision Signs and Imaging today … because image is everything.