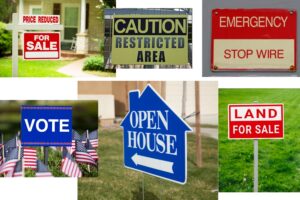 Yard signs have been used for years for boosting the visibility of business promotions, special events, and political campaigns. These seemingly simple signage solutions have a unique ability to capture attention, engage audiences, and leave lasting impressions. Whatever your advertising goals, harnessing the potential of yard signs can significantly impact your outreach efforts.
Why Yard Signs Matter
In the fast-paced world of modern communication, yard signs offer a refreshing and effective way to make your message stand out. Business owners can leverage yard signs to announce promotions, grand openings, or simply to increase brand awareness within their local communities. For political campaigns, they act as miniature billboards, allowing you to display your candidate's name, slogan, and key issues directly in the neighborhoods where voters reside.
Choosing the Right Quantity
The number of yard signs needed depends on the size of the geographic area you intend to cover. For small, tightly knit neighborhoods, a conservative number of signs strategically placed at intersections and high-traffic areas could suffice. In larger areas, however, a more robust approach is necessary to ensure widespread visibility. Collaborating with a professional sign company can help determine the ideal quantity based on your campaign or business goals.
Types of Yard Signs
There are several options to consider when choosing a yard sign. Getting the advice from a professional sign company such as Precision Signs and Imaging in Burnsville MN will help ensure you select the best sign for your needs.
Corrugated Plastic Signs: These versatile signs are durable, weather-resistant, and cost-effective. They are available in various sizes and can be customized to feature vibrant colors, bold text, and eye-catching graphics.
Metal Signs: Sturdy and long-lasting, metal yard signs exude a sense of professionalism. They are perfect for businesses looking to establish a strong brand presence in their community.
Double-Sided Signs: These signs maximize exposure by featuring your message on both sides. This is especially valuable for political campaigns, where passing traffic can quickly absorb your candidate's information.
Wire Stake vs. A-Frame: Choosing between a wire stake and an A-frame depends on where you plan to display the signs. Wire stakes are great for sticking into the ground, while A-frames can be placed on sidewalks and other flat surfaces.
Selecting the Perfect Yard Sign
When selecting yard signs, consider factors like durability, design, and visibility. Opt for high-quality materials that can withstand the elements, ensuring your signs remain intact and vibrant throughout the promotion or campaign. Keep the design clean and easy to read, with a focus on bold fonts and concise messaging. Bright, contrasting colors can make your signs pop, even from a distance.
Yard signs remain an impactful tool for businesses and political campaigns alike. They offer a tangible way to connect with local communities and leave a lasting impression on potential customers or voters. By choosing the right quantity, type, and design, you can harness the power of yard signs to effectively convey your message and achieve your goals. To learn more, contact Precision Signs and Imaging in Burnsville MN, your local expert in yard signs for every purpose! Precision Signs and Imaging … because image is everything.